June Salutations! It seems that each month in 2020 has brought breathtaking, disorienting changes. What's next, we might wonder. We adapt to new realities, work toward creating new and better "normals" while managing the challenges of the moment. May we reach into ourselves and out to others to build even greater momentum for health care for all, and for justice for all.
In this edition we take a look at the interconnectedness of health and socioeconomic inequities, and the necessity of universal health care in removing health inequities. There's an update on the Universal Health Care Work Group with a request for public comments on the next meeting June 24, and we offer background and an opportunity to take action on The Health Care Emergency Guarantee Act, an important federal bill that can achieve universal coverage during the COVID pandemic. Find out how you can support it.
News and Commentary and events follow.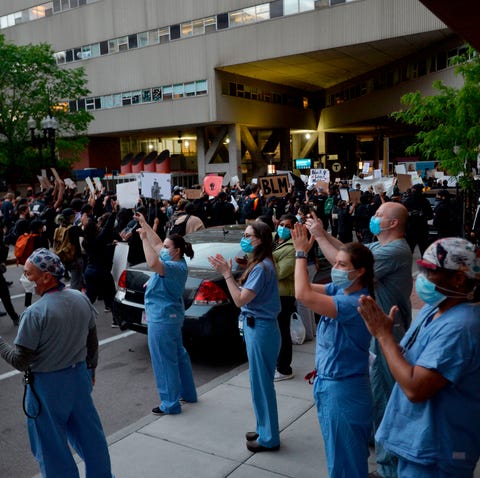 Image: Health care workers cheer marching Black Lives Matter supporters.
Joseph Prezioso/Getty Images

Universal Health Care is Critical to Creating Health Equity

It's an ongoing national tragedy that communities of color remain at increased risk for a wide range of adverse health outcomes related to social and economic determinants of health, and COVID-19 is no exception."--Dr. Jeff Duchin, Health Officer for Public Health – Seattle & King County.
As of May 15 in King County, COVID-19 infection rate for Blacks was nearly 4 times that of Whites, and for Hispanics it was 9-fold that of Whites. Hispanics had nearly 6 times the COVID deaths as Whites, after adjusting for age differences in the populations. We know that racial and socioeconomic inequities go hand in hand with health inequities. In this blog post, we explore this relationship and the vital role of universal health care in creating health equity.
---

Universal Health Care Work Group Needs Your Comments
After a hiatus due to COVID-19 restrictions, the Universal Health Care Work Group has resumed meeting, now online via Zoom, on Wednesday June 24th, 1-4pm.
The goal for this meeting is to "Prepare for actuarial analyses of three models of universal health care."
With the impact of COVID-19 reverberating state-wide and the need for accessible health care greater than ever, the Work Group needs to hear how the shortfalls in care affect Washingtonians. 
Public comments are extremely important It is crucial that the work group and the project consultant hear the experiences and concerns of:
Comment testimony can be between 30 seconds up to 1 minute duration. You can also submit comments after the meeting.
You must register to attend and comment by 5 pm on June 23. Register here, and you will receive Zoom meeting instructions from that point.
If you prefer to only observe, you can watch the meeting on TVW.
Background materials for review prior to the meeting can be found here.
---

The Health Care Emergency Guarantee Act: An Immediate Step Toward Health Equity
Across the US, it's estimated that 27 million people have recently lost health insurance due to unemployment. Others have retained insurance but reduced income compounds the financial burdens of premiums and co-pays for health care.  We know that these burdens fall disproportionately on Black, Hispanic and Native Americans. Immediate federal relief is being proposed for all affected, with the Health Care Emergency Guarantee Act, and it's a step toward equality in health care.  Your support is needed to get momentum for this vital act to be advanced in Congress. Learn more here.
---
Healthcare News and Commentary
Upcoming Events
Did we miss an event, perhaps virtual, coming up in a month or so? Let us know ASAP and we'll post it on Facebook!
---
Did you know you can help us achieve our goal — with no additional cost to you — when you shop with Amazon? 

If you shop at Amazon, simply use our 

Amazon Smile Link and Amazon will contribute to our education efforts.

 The perfect gift for every universal health care supporter, any time of year: Everybody In, and Nobody Out t-shirts, winter scarves, and umbrellas.


---
★ Editor: Elaine Cox ★ Graphics & Communications Specialist: Sydnie Jones ★
★ Health News: Rich Lague  & Cris Currie ★ 
★ Spokane & Video: DW Clark ★  President: Marcia Stedman ★